Instructors
Natasha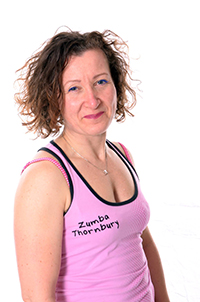 I opened Zumba Thornbury in January of 2011 with one class on a Tuesday night and one class on a Wednesday morning. It was just what Thornbury had been waiting for! An exciting, fun way to burn calories all wrapped up in the joy of movement and dance. Within 3 weeks I had to put on another Zumba class on a Tuesday and introduce booking systems for the classes as even in Armstrong Hall which holds 60 the classes were getting full. By May of that year I had opened additional classes in Severn Beach and another night in Thornbury and was snowed under.
One by one I had participants from my front row do the course and I put on classes for them to teach with a special card that anyone could use to attend any of our classes and get discounts. I am now very proud to say that I work with Louise Williams and Samantha Croft and together we run Zumba Thornbury bringing you the best Zumba classes in the area.
We organise charity events where we raise £1,000's each year, we have our own social events that everyone is welcome to attend and we have been honoured to appear at the Thornbury Carnival and many school fairs over the years.
Louise Williams
I started attending classes at Zumba Thornbury with Natasha 9 years ago. I soon became a big fan of Zumba. I loved the latin/worldwide music, energy, dance fitness, variety of routines, the feel good factor and being part of a fantastic community group. As time went on my love for Zumba grew and I became more involved and decided to take the course to become a Zumba Instructor.
I have been teaching for over 8 years and currently teach on Sunday mornings 10.30-11.30 at Manorbrook Primary School. I aim to make my classes fun and enjoyable , bring the Zumba party feeling to each class and create a welcoming, happy atmosphere and spread the Zumba Love.
Samantha Croft
My Zumba passion started about 8 1/2 years ago when I attended my first Zumba Thornbury class at Severn Beach with Natasha. Back then I was an unfit mum of 2, with low self esteem and suffering from panic attacks. That first class was fun, energetic and the music was fantastic. The best bit though was I was exercising and burning calories but enjoying myself at the same time. I was Hooked. So in 2013 when I was asked to join the Zumba Thornbury team as an instructor I jumped at the chance. I now teach 4 classes a week in Severn Beach and enjoy every minute. I'm fitter, healthier and more confident than I have ever been. No more panic attacks!!! I have made some amazing friends and we have some wonderful social events. It gives me immense pleasure to be able to help people change their life's the way Zumba has changed mine.
Emma Cooper
I started participating in Zumba classes with Natasha at Severn Beach in 2013 – before long I was doing 5 classes a week with all the fabulous Zumba Thornbury instructors. Prior to this I had done no 'structured' exercise – I walked my dog(s), danced when no-one was watching – but not much else! Zumba helped me to overcome that feeling of embarrassment or ' I can't do that' about exercise – because it's not just exercise it's social, it's fun, it's a party!!!
Zumba has introduced me to a love of exercise – I love participating in Natasha's Zumba Toning or Yoga-lattes class on a Tuesday night as it's so good for my body to do other types of exercise. In 2019 I decided to bite the bullet and complete the Zumba instructor training and have been covering classes and set up my own since then. Come and join me at Little Stoke Community Hall on Thursday evenings for my 7pm Zumba Fitness class - I'd love to dance with you!
But it's not just an exercise class, we are a community and do as much as we can to raise funds for our local communities and causes close to our (and our participants) hearts.